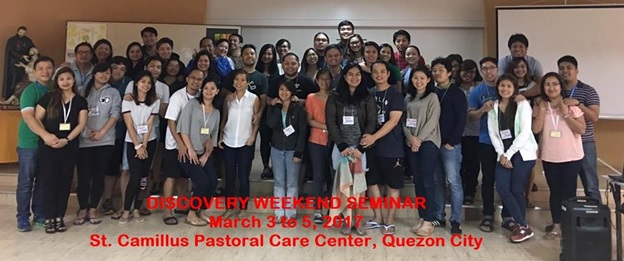 Our biggest takeaway from this DW is that we should always have time and a lot time for communication so to not land in wrong assumptions. ? Also, we learned how to listen to our partners especially during hard / rough times. ? Justine?Riza
---
Dialogue is very important. ? We learned a lot. Communication lives were opened fully communication barriers were taken down we would recommend to friends to see preparedness for marriage. ?
---
Having a structured way to communicate with my partner was very helpful and I think we would practice it throughout our relationship.
---

I would highly recommend couples to take this retreat before marrying. To better prepare themselves for marriage. Things that aren't usually discussed often lead to frustration / bad feelings which causes trouble over time DW has been helpful on how to deal with these situations.
---
The whole weekend allowed us to open up more and take the first step into our married life the right way. Couples may think of it as not so important at first like me. But I think this should be a pre requisite to all the couples getting married.
---
I liked DW No.5 the most – Marriage expectation. I was surprised to find we had the same answers for all except one topic. Made us sit down and talk. Reaffirmed we are ready ?. Getting a love letter was a definite highlight. I recommended DW to couples who are unsure or want an insight assessment before committing.
---
This is no right or wrong with feeling but there is on how you expressed them… 5 Love Languages, 3 Stages of Love and having a dialogue. Affirmation of our feelings to each other guidelines in fighting. Reconciliation – Confession with Father. Before DW – love is great to each other, After DW – love is even greater with touches of reality. Prepares couple – intrapersonal, interpersonal, faith in God, marriage.
---
Wisdom and stories from sharers. It gave us objective approach on dialogue. More spiritual. A god preview of married life. Quality resources.
---
My learning in this DW sessions is more eye opener and time to life settings, it gives you a glimpse of the real life situation we will encounter as couples along the way in our life. The discussion sessions is one of the tools that is really important because it really helps you to settle your differences as couple and avoiding conflicts and misunderstandings.
---
The weekend helps us to be equip with the life ahead of us the tools and tips are very helpful so we could understand each other.
---
For me the weekend highlights will be the I and I and we because this is the part where you thought you are much comfortable but you realize it is not because of the discussion part it really help.
---
After the weekend its like you open your eyes to a new perspective you are much open to your partner you understand her in a new outlook you could communicate because you could discuss things openly.
I sure, I will recommend DW to my friends and family.
---
Dialogue is very essential for us, we were able to convey information that we are afraid to talked about. I also like the love letter writing.
---
It made us stronger and deeper our understanding and having a clear path that God will be the center of our relationship.
---
Highlights for me are couple sharing, we get a hands on experience in the reality of married life and how they continue loving each other.
---
Before the weekend, it was like exciting that we will go to DW, it is good decision that both of us agreed not only spending time with each other but also with God. Because it is gain confidence that through commitment and guidance of God we can make it through.
---
Our DW experience had enlighten us as a couple into how we can grow into our relationship. The whole weekend made me appreciate and understand my partner better. The highlight was the group sharing in which all the couples shared their love letters to their partners. I believe the vest learning was in how to do dialogues with your partner which will keep us stronger. We will definitely recommend DE to others.
---
Discovery Weekend helped us in understanding each other. They taught us to speak and listen to each other.
---
I know more about my partner and we had a chance talking about sensitive things which we're not able to discuss about our regular conversation. We become more open to each other and we know how to dialogue. Discussion about certain sensitive issues and doing love letters for each other. We are now super duper close with each other mo mask. Yes, I will recommend DW to other couples.
---
How to dialogue. Communication. Dialogue for volunteers, Dialogue for participants. Happy before, Happy and prepared after. Economical and fair price for learning.
---
A couple relationship gives thru 3 stages and it helps to see those stages thru Jesus. Helped us be more God centered.
---
The experience was awesome!!! I got to know my partner deeper.
---
My biggest takeaways are the lessons thaw we've learned and that God is in control. This weekend really helped us through getting answer of a lot circumstances / situations that we do not really understand. The weekend highlights was the sharing of the couples of their experiences and getting to know more couples that has same situation as we did which makes us fully understand that couples really need guidance and understanding to make a relationship work. To be honest Carlo and I had problems communicating, but the DW reminded / taught us is that we should fix everything we don't understand first before we make decisions that will make things complicated or regret. The DW is a good way to help couples and also married couple have a constant reminder and tips that we should understand each other's uniqueness and that no matter the differences love still never fails.
---
Joining the Discovery Weekend helps us a lot as a couple. We were able to talk about things we don't normally talk about as couples.
---
Communication is Key! The biggest takeaway is definitely learnings how to talk to each other. Now we can talk about anything and I will surely recommend it to all my friends.
---
The DW is one of the greatest encounters a couple could make in preparation for marriage. This was a perfect venue to affirm / confirm our relationship with each other and into God. This would be a great opportunity to learn about the must knows of married life, the need to dialogue with your partner and the feeling that it is okay to become vulnerable to remove each other's mask and be honest with one another. It strengthens your bond as a couple with God in the center.
---
Before DW, I've had my share of doubts and fears about the relationship. Petty quarrels were becoming frequent. After DW, we now know and closed issues still hanging and how to do team, we are moving on to a new chapter; marriage.
---
All couples must / should experience the DW, You get to know more about yourself, your relationship with your partner and relationship with God. Thanks DW!!!
---
The main reason I wanted to attend the Discovery Weekend was to learn to communicate properly. Open up to each other and share our feelings. We've had many relationship issues throughout the years and sadly a lot of them have not been resolved by our usual serious talks because we almost always end up fighting, bringing up past hurts or just result to silent treatment. I am hopeful that what we learned this weekend will help us nurture our relationship with each other and with God.
---
The Discovery Weekend helped me be prepared for the future, my life with a wife, my life with a family. It also made me know more about my partner, things that couples do not usually talk about during dating stages. We got to talk about topics that were most often hard for us to talk about. More than the above mentioned, we as a couple were made to be closer to God. We made a vow that our life will be centered on Jesus Christ. I see the DW community will be a very helpful support group especially if we will have trials in the future. Thanks DW ?!
---
Recommended for couples (BF/GF) 3 – 6 years in the relationship.
---
DW helped us keep in touch with our inner feelings and be aware of my partners emotions as well. The lessons are very helpful in teaching new couples a way of enriching relationships. Thank you very much!
---
DW has allowed for the reaffirmation of all the love I have for my partner. Through openness and knowing we can be vulnerable, too, we were able to feel more comfortable in expressing our feelings and ultimately resolve issues without judgement. Thank you, DW!!!
---

The weekend provide us the time and venue we could listen and talk to each other with the guidance of mentors. After the weekend, the three –strand bond of us as a couple and with God was strengthened. We highly recommend the DW! Very worth it!
---
"Highly recommended to couples before tying the knot".
---
Discovery Weekend is high recommended for all types of couple-married, engaged or not. Couple shall engaged themselves in topics or issues that are avoided, because it usually causes conflict or rift between them. Couples are taught how to properly communicate through the proper tools.