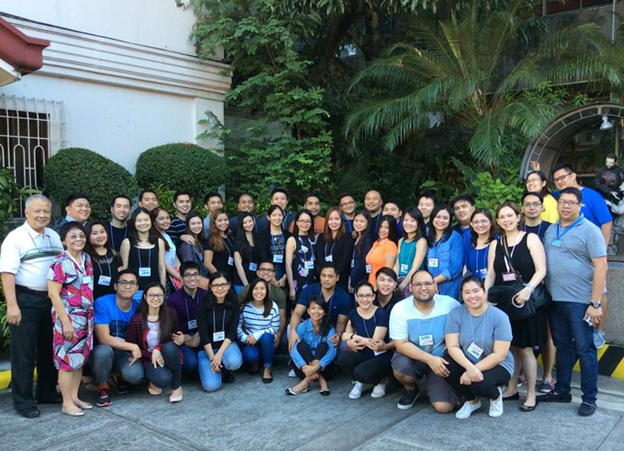 It was a great opportunity to discover my fiancé more without the distractions of everyday life. We really drilled to our core principles and affirmed our commitment to get married. I would highly recommend to anyone even considering marriage!
---
That a relationship is a living things, it is nourished by both man and woman and by the grace of God. The weekend showed me who I am on the relationship. I would recommend the weekend to anyone who s about to get married and even already married as there are plenty of things to learn.
---
This weekend helped us settle our differences as a couple. I made us understand each other's feelings. It made me better person. I would definitely recommend this to my friends to help them deal with their issues and guide them through their marriage.
---
DW provides a platform for reflection and dialogue not otherwise available in the daily grind of life. DW is an investment for years of marriage ahead.
---
Discovering more about my partner and deepening of our love for each other. It helped us understand ourselves and how to resolve conflicts between us. I feel I am more ready to say "I do". I will recommend it to couples to be prepared on the marriage aspect not just the wedding.
---
The DW reassured me that our decision to marry truly was founded with the correct principles and definition of love. It also helped us see a bigger picture.. of how our relationship is not just about us two, but of God's pivotal role in our center, as well as how to community around us is also affected.
---
Being more emotionally and spiritually closer to my partner. It helped us know each other more for marriage and prepare us for the future. Reconciliation and giving of the flower. Before we were too busy with wedding preparations after made us focus of our relationship and our future together. It's an investment for both the partners for marriage and beyond.
---
I highly recommend Discovery Weekend because you would truly discover yourself and your partner as a couple. I learned a lot, namely: Communication is the key to a healthy relationship, Feelings is very important and is usually misunderstood. Be sensitive to each other feelings. Major highlights: Mask/ unmasking to show ones true character. Character, Reconciliation and Holy Eucharist.
---
Biggest takeaway – Participation, Reflection /Dialogue activities. Helped focus on us as a couple. We were able to hash out issues on a clear and open and even playing field. The reconciliation mass was my highlight, a spontaneous and blessed surprise which was touching. It was good before but now have guidelines to a health relationship. It experienced it and believe in it!
---
I would recommend DW for young couples who want to learn the factors in growing closer to each other within their faith as committed Catholics. The DW walks you through the essential skills need to understand each other in your relationship. With guidance from successful couples with decades of experience, DW is a great foundation and a first step in understanding the structure of a happy marriage within the church.
---
DW is highly recommended for couples who are about to be married and are planning to get married.
---
The Discovery Weekend has helped my partner and I solidify and clarify our relationship, though its various couple activities. We we are able to identify the points we needed to make decisions about with regards to our relationship.
---
Learn to discuss the feelings and mag-dialogue tayo. Helped us to open up and be valuable to each other and to put God in the center of our relationship. The received of the Sacrament of Reconciliation. We are more in Love and Ready for married life. Because it is filled by God's grace and a unique gift for couples.
---
Wedding is a day, but marriage is a lifetime DW helped us understand each other better, helped us open up and discuss topics previously not brought up. The talks from different couples helped us in getting more insights and better prepare for the future.
---
Our weekend was great, we learned now how to handle our issues properly. We will use all our learning to our relationships and apply it in our daily lives.
---
As a whole, the Discovery Weekend helped strengthened the relationship between my partner and I emotionally and spiritually. Somehow being away from away from the hustle and bustle of the city helped us talk about the issues that have been forming cracks in our relationship Thanks to DW, we have a better understanding of each other and a better relationship with God (through the Sacrament of Reconciliation).
---
My partner and I came to the DW looking for confirmation that we were on the right track for marriage and a lifetime together – but we walked away with so much more than that. Aside from realizing things about each other, we also realized things about ourselves – and this gave way to understanding, healing and a deeper love. This weekend has confirmed that I want nothing more than to continue growing in love – with my partner and with our God.
---
DW helped Charles and I in many ways we did not expect. Taking a break from the stress of wedding planning and pausing for a while to reflect on what really matters in our future life together is the best decision we've made as a couple. The Sacrament of Reconciliation was very meaningful to us and it helped us renew our relationship with God. Kudos to DE team! May you enlighten other couples too with your mission and advocacy.
---
DW helped us have a deeper understanding of ourselves as individual and together as a couple. DW helps couples to focus on the important aspects of married life, away from the gift of wedding planning and distractions of every life.
---
We would like to thank everyone who participated at the Discovery Weekend as it helps nourished our relationship spiritually, emotionally and mentally. I would definitely recommend Discovery Weekend to my friends who are planning to get married so they would experience how we we're enlightened by this. Thank you so much and may God Bless you all always.
---
Discovery Weekend helped us to better understand how important God is in each marriage and that it will only survive if we put God in our lives. This weekend also helped us better understand our partner's feeling and better communication especially on difficult topics. A great way to equip us for our upcoming marriage.
---
Discovery Weekend allowed me to grow as a person and Bryant and I as a person. The process and experience of listening to other couples, reflecting with the mind and heart plus dialoguing was really a powerful and enriching one. The opportunity for focusing on my partner have also allowed us to grow. We now feel closer and stronger than ever. Everyone in a relationship should go through this experience.
---
The discovery Weekend is best even for couples who are not yet engaged but are seriously considering their boyfriend/girlfriend to be their lifetime partner. It suggests ways and skills on how couples can enrich their relationships with God at the core. My partner and I are so blessed to have experienced God in our preparation to be lifetime partners.
---
I would definitely recommend DW to other couples not just the engaged ones but for boyfriend/girlfriend who want to discover one another and God. Thank you to Tito Jojo and Tita Ditsy for this wonderful experience.
---
Dialogue is important. We should focus on the feelings and express our minds not in a judgmental way. The weekend helped us to be truly open, honest, forgiving and accepting of each other. More importantly, it helped us to be closer to God as an individual and as a couple.
---
Thank you very much Tita Ditsy for our heart to heart conversation /counseling with you! We will forever cherish that moment, I pray to God that people like you will be more abundant! God bless you and Tito Jojo always! Yes I will recommend Discovery Weekend. More power and God Bless! Love, Johann Abellaneda and Maddie Cabrera.
---
DW is highly recommended to couples even to those going steady to be able to know their partners more and he sure to make the right decision to forever.
---
Two of my experienced take aways is learning to trust my partners feeling, trust him to aspects from leadership to support and many more. Through Discovery Weekend it helped us discuss issues wholeheartedly. Issues that we have been avoiding and dumping for months. The best highlight is the reconciliation, for months now, I felt that God was quiet probably because of my lack of desire to have quiet time with him and read the bible. I feel God again last night, I felt him whisper into my heart that He misses me and that everything would be alright. I must admit I am a bit tired due to the lack of sleep, but it's a good and fulfilling kind of tired and something that I never felt before. I highly recommend something like this to the engaged couple or not will encounter all that was discussed and may ready that there is far more deeper purpose in a relationship.
---
My parents, close friend and siblings recommended Discovery Weekend to us. They said it would be good for us in terms of growing together and as individuals. After going through the 3 day retreat and immersing ourselves in all the lessons and wisdom, I can now say for myself that it is indeed an experience of growth. We've learned so many practical tips for communication, relationship handling, etc. It was a grace – filled experience for me and my partner. It's a must if you're seriously considering getting married and having a happy marriage forever.
---
We helped us a couples to be open to each other to talk whatever problems. Isa sa mga best ever na hindi ko makakalimutan na seminar dahil dito natutunan ko na maging open sa partner ko at pag-usapan kung ano man problems na dumating sa amin. Mare-recommend ko ito sa lahat ng couple friends ko.
---
That these is a lot more work to be done after the weekend to make my relationship develop and grow. It really helped us discuss topic, although it would have been good to have had more time to work up the marriage pre-inventory. Sharing dialoguing and journaling. It really gave clarity to the following discussions. We're a pretty steady couple. I think we learned a lot of strategies on our issues. I think we used to work more after. Good platform to start things off as a couple. I also like the focus on your partner , but because wedding preparations may take your focus away from what is really the important thing, your PARTNER!